PaPa's Pad has been emphasizing on students' development of skills in communication, cooperation, creativity and judgment. To equip students with these skills, in 2017 spring semester, we started an after-school creative art program at Longshou Elementary School to cultivate students' ability of recognizing themselves and critical thinking.
↑ Through the process of art crafting, Students integrated themselves with people and things around them gradually.
The after-school creative art program took more than 8 months. It was carefully planned and guided by art teacher Chen and 2 tutors, Chia-Lin、Shou-Lin. In this program, the teachers assisted the students to jump out of the frame and to make their art works with tremendous freedom. Through the process of crafting, students could feel the chemical reactions of colors and materials. For example, students might have different feelings for color blending, shape changing, etc. They also found that sometimes trash could be treasure, too. All it took was a little hand work. Through the process of art crafting, students integrated themselves with people and things around them gradually. Their creativity and artistic expression were also enhanced.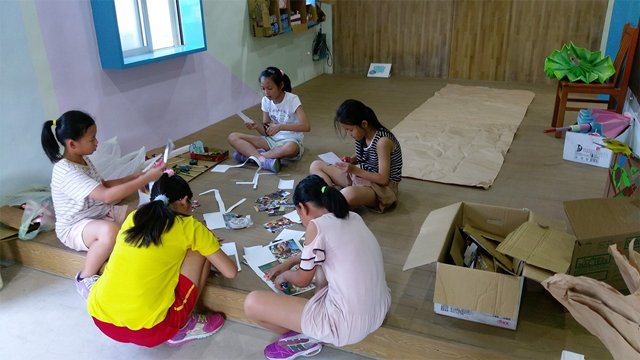 At the end of the program, students were given an assignment to hold an art exhibition. They were asked to look back at the process of their learning and planned an art exhibition together. From work division, site layout, selection of works, to making invitation cards, all the work was handled by students. Students discovered problems together and dealt with the problems together. Students had so much fun in the process of preparation. They even forgot time to go home if there was no reminder from the school guards.


The art exhibition of Longshou Elementary School & Grandpa Huang's Home, provided students with the opportunity to learn how to cooperate, how to review, how to plan and how to execute plans. We hoped this valuable experience would become a foundation for their future learning and make them fly higher and farer.
↑ "Play Together with Creativity" Video Records from Little Curators.